ValueAid BS8599-1:2019 First Aid Kits With Talking Guide
As Low As
£35.00
ValueAid BS8599-1:2019 First Aid Kits With Talking Guide
As Low As
£35.00
First Aid Kit
Talking First Aid Guide
Equip your first aiders and trainers with a fully BS8599-1 standard first aid kit and a NEW Talking First Aid Guide!
Everything you need to treat common injuries in any situation
Contents comply with the new BS8599-1 standard for the contents of workplace first aid kits
Available in small, medium or large sizes to suit any workplace and team
Easily identifiable case manufactured from rugged green polypropylene with clear white markings
Ideal for multi-site businesses
Talking First Aid Guide included, see Talking First Aid Guide tab for details.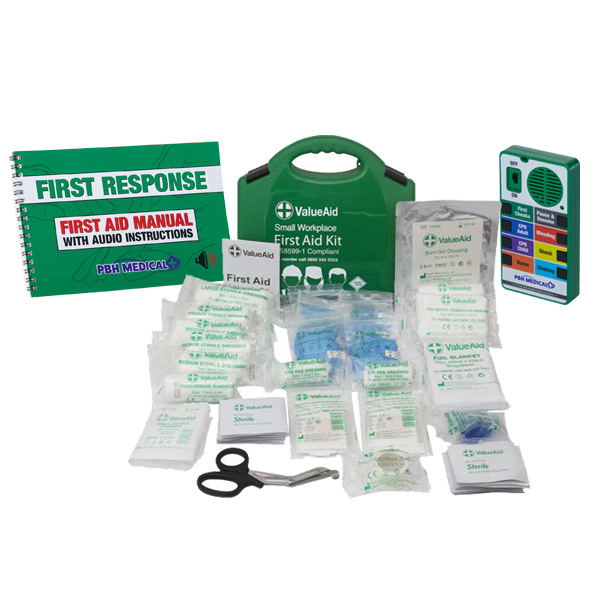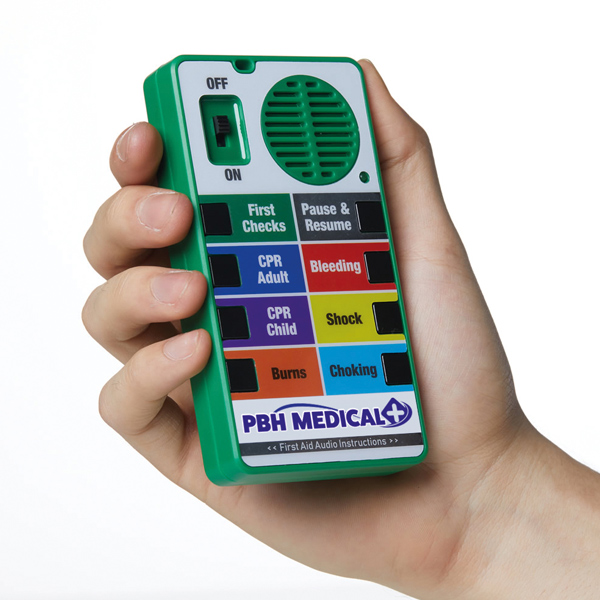 Price List - To order please specify a quantity. Then click the "Add to Basket" button.
Prices exclude VAT at 20%
Contents
Small BS8599-1 Kit With Talking First Aid Guide
Medium BS8599-1 Kit With Talking First Aid Guide
Large BS8599-1 Kit With Talking First Aid Guide
1 x Guidance Leaflet
2 x Medium Sterile Dressings
2 x Large Sterile Dressing
2 x Triangular Bandages
2 x Eye Pad Sterile Dressings
40 x Sterile Plasters
20 x Sterile Cleansing Wipes
1 x Adhesive Tape
6 x Nitrile Disposable Gloves (Pair)
2 x Finger Sterile Dressings
1 x Resuscitation Face Shield
1 x Foil Blanket
1 x Burn Dressing
1 x Shears
1 x Conforming Bandage
1 x Green Moulded Case
1 x Guidance Leaflet
4 x Medium Sterile Dressings
3 x Large Sterile Dressings
3 x Triangular Bandages
3 x Eye Pad Sterile Dressings
60 x Sterile Plasters
30 x Sterile Cleansing Wipes
2 x Adhesive Tape
9 x Nitrile Disposable Gloves (Pair)
3 x Finger Sterile Dressings
1 x Resuscitation Face Shield
2 x Foil Blanket
2 x Burn Dressings
1 x Shears
2 x Conforming Bandages
1 x Green Moulded Case
1 x Guidance Leaflet
6 x Medium Sterile Dressings
4 x Large Sterile Dressings
4 x Triangular Bandages
4 x Eye Pad Sterile Dressings
100 x Sterile Plasters
40 x Sterile Cleansing Wipes
3 x Adhesive Tape
12 x Nitrile Disposable Gloves (Pair)
4 x Finger Sterile Dressings
2 x Resuscitation Face Shields
3 x Foil Blankets
2 x Burn Dressings
1 x Shears
2 x Conforming Bandages
1 x Green Moulded Case
Alternative products
PBH Medical Talking First Aid Guide
Innovative device provides step-by-step guidance to help save lives
£20.50
More Info
ValueAid HSE First Aid Kits With Talking Guide
Best-selling HSE first aid kits supplied with a innovative talking first aid guide
£27.20
More Info
ValueAid Bum Bag First Aid Kit With Talking Guide
Our bum bag first aid kit supplied with an innovative talking first aid guide & manual
£28.50
More Info